Save the environment and feel good about picking up after your furbaby
As devoted dog parents, you know the drill of picking up after your pup. Transform this unavoidable duty into an eco-friendly act with My Healthy Dog Biodegradable Dog Poop Bags.

Save The Planet Reject Pollution
SPECIAL OFFER
Learn More
Why Chose My Healthy Dog Biodegradable Dog Poop Bags?
Enhance your pet-care routine while preserving the environment with My Healthy Dog Biodegradable Dog Poop Bags. Crafted from eco-friendly materials, these 100% biodegradable bags offer an excellent solution to dog waste management, without adding to the global plastic waste problem.
Certified ​100% Biodegradable & Compostable
Our dog poop bags meet the stringent standards of ASTM D6400, EN 13432, and more, certifying they are biodegradable and compostable.
ECO Friendly
180 Day Biodegrade Period.

Does not contain any Polyethylene.

Can be completely biodegraded in nature.

Made with Nature's materials
100% plastic free. Our bags are made using corn starch, which is a pure starch powder that's extracted from corn kernels. They do not pollute the environment, which is essential to protecting the environment.

Tough and Reliable
Despite their eco-friendly nature, these bags are tough. They are leak-proof and can handle any size of poop.
Odor-Control
The bags come with
an odor-blocking feature to keep those nasty smells at bay.
Easy-to-Use
Our bags are designed for easy opening, quick pick up, and simple knot tying.
Each bag is robust and leak-proof, designed to handle any size of poop, offering dog parents peace of mind when out for walks or during backyard cleanups. Despite being environmentally friendly, these bags don't compromise on strength or reliability.

Easy-to-use, our poop bags are designed for quick opening, seamless pick up, and simple knot tying. This ensures a mess-free, stress-free process even when you're on the move. Affordable, reliable, and eco-conscious, My Healthy Dog Biodegradable Dog Poop Bags are an excellent choice for responsible pet owners.

Take the first step towards a more sustainable pet-care lifestyle.

Don't Wait, Order Now! Hit the 'ADD TO CART' button and start your journey towards a cleaner, greener world with My Healthy Dog Biodegradable Dog Poop Bags.
Prioritize Both Pet Care and Planet Care
2 million plastic bags are used every minute worldwide​

More than 40 percent is used only once then disposed
The average time a plastic bag is used is for 12 minutes.

Estimates for how long that plastic last after disposal range from 450 years to forever.
The world now produces more than 380 million tons of plastic every year

Only 9% of all plastic produced is recycled.
A truckload of plastic is dumped into the the ocean every minute.

There could be more plastic than fish in the ocean by 2050
Worldwide, 73 percent of beach litter is plastic: filters from cigarette butts, bottles, bottle caps, food wrappers, grocery bags, and polystyrene containers.

Plastic last from 450 years to forever.
Protect & Preserve Nature with Our Revolutionary Biodegradable Dog Poop Bags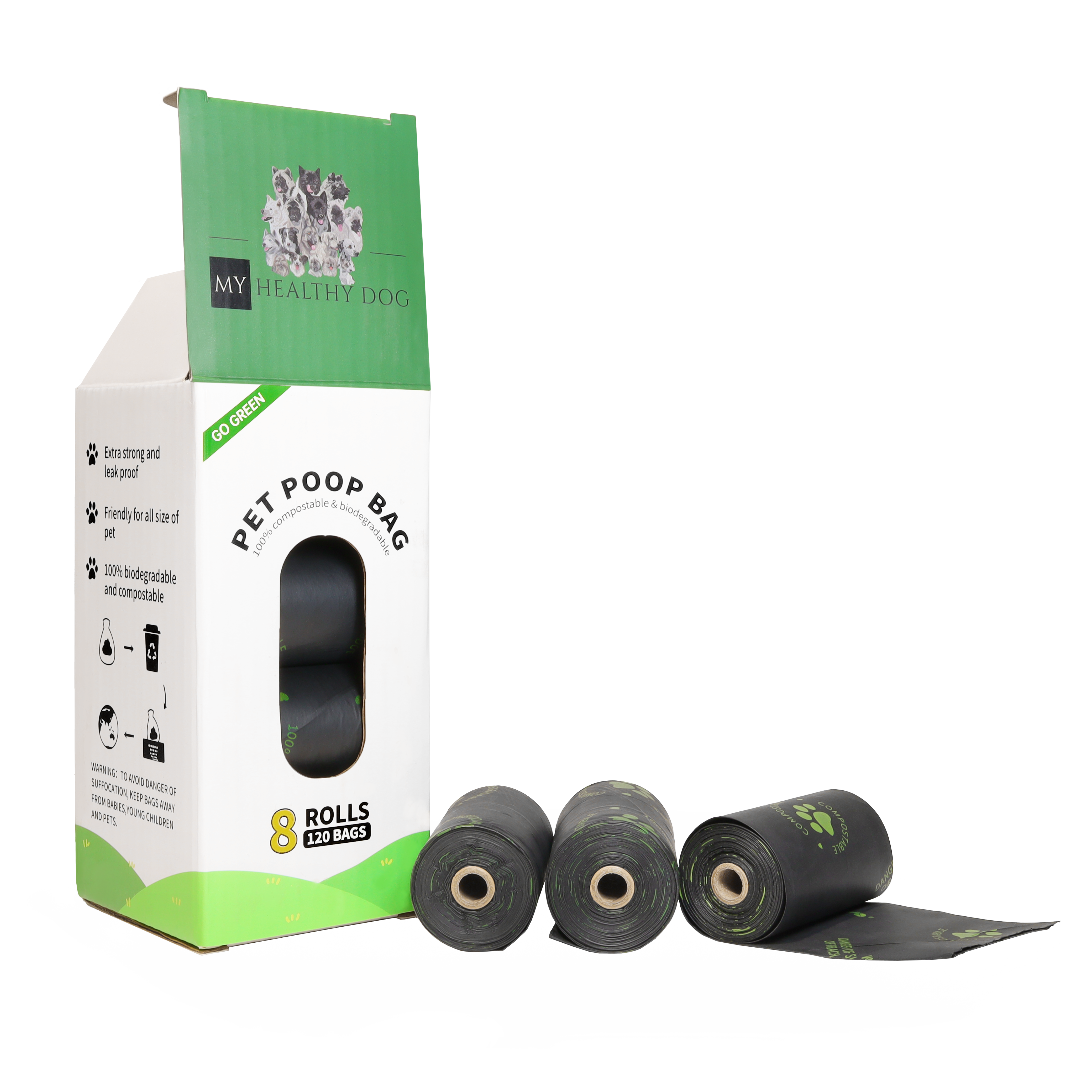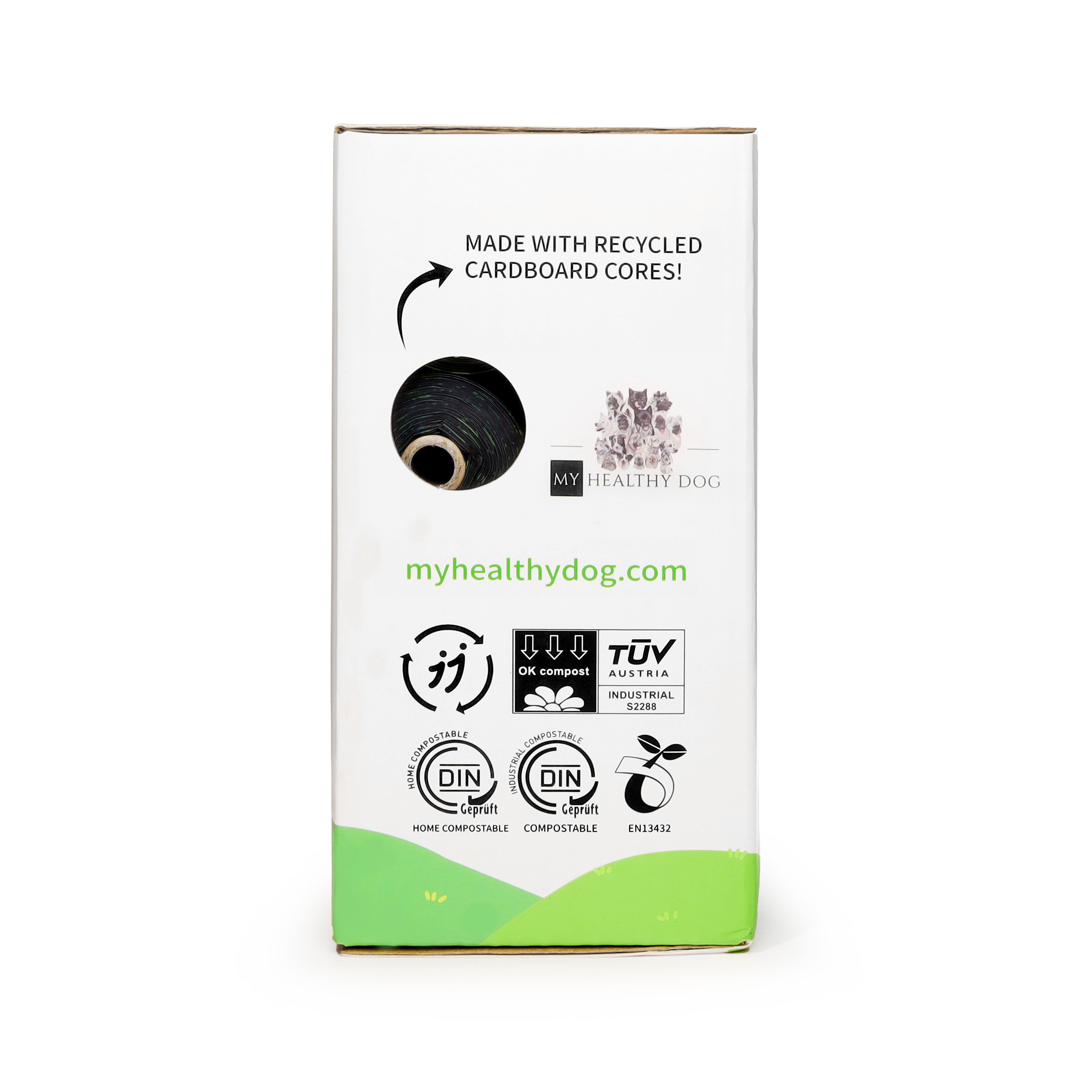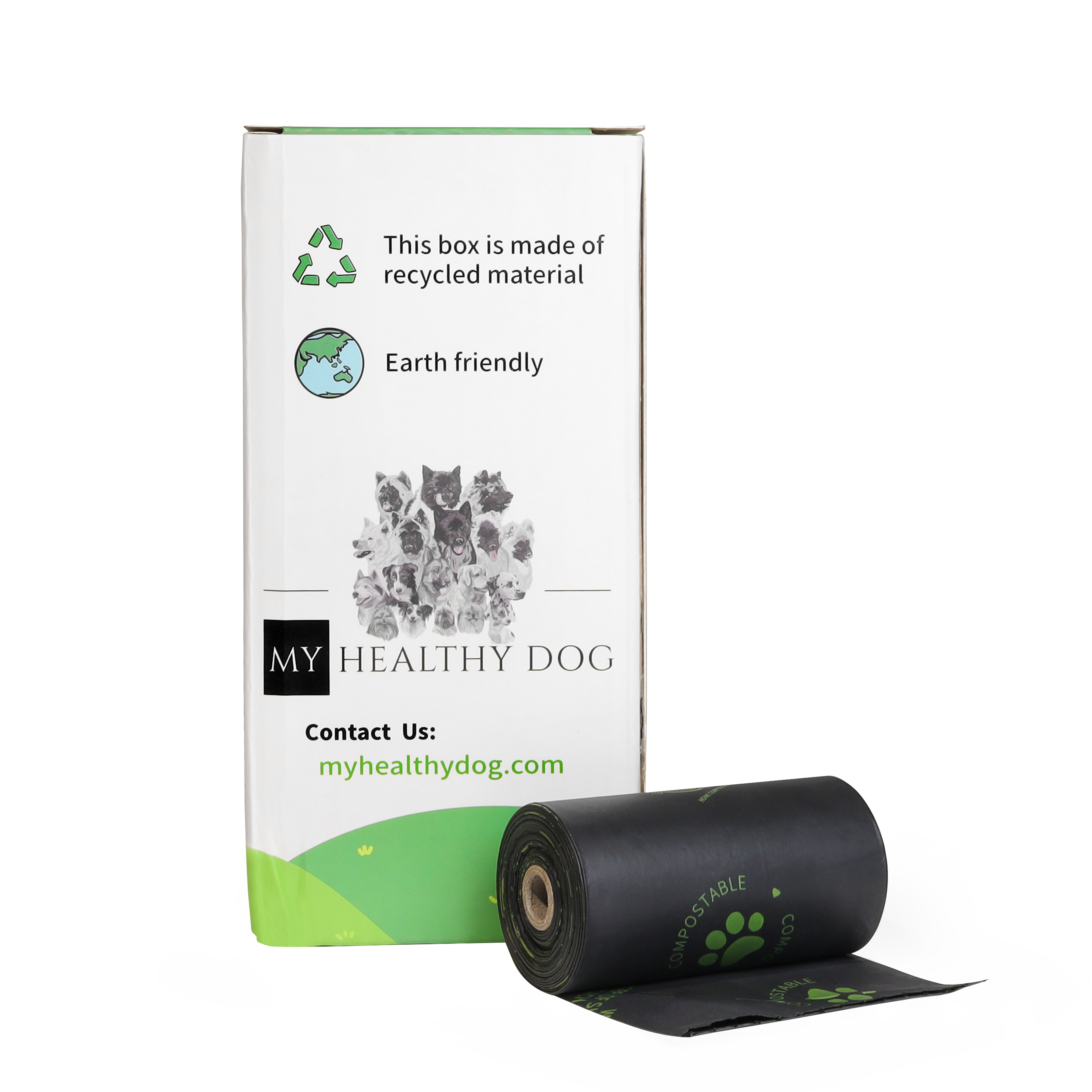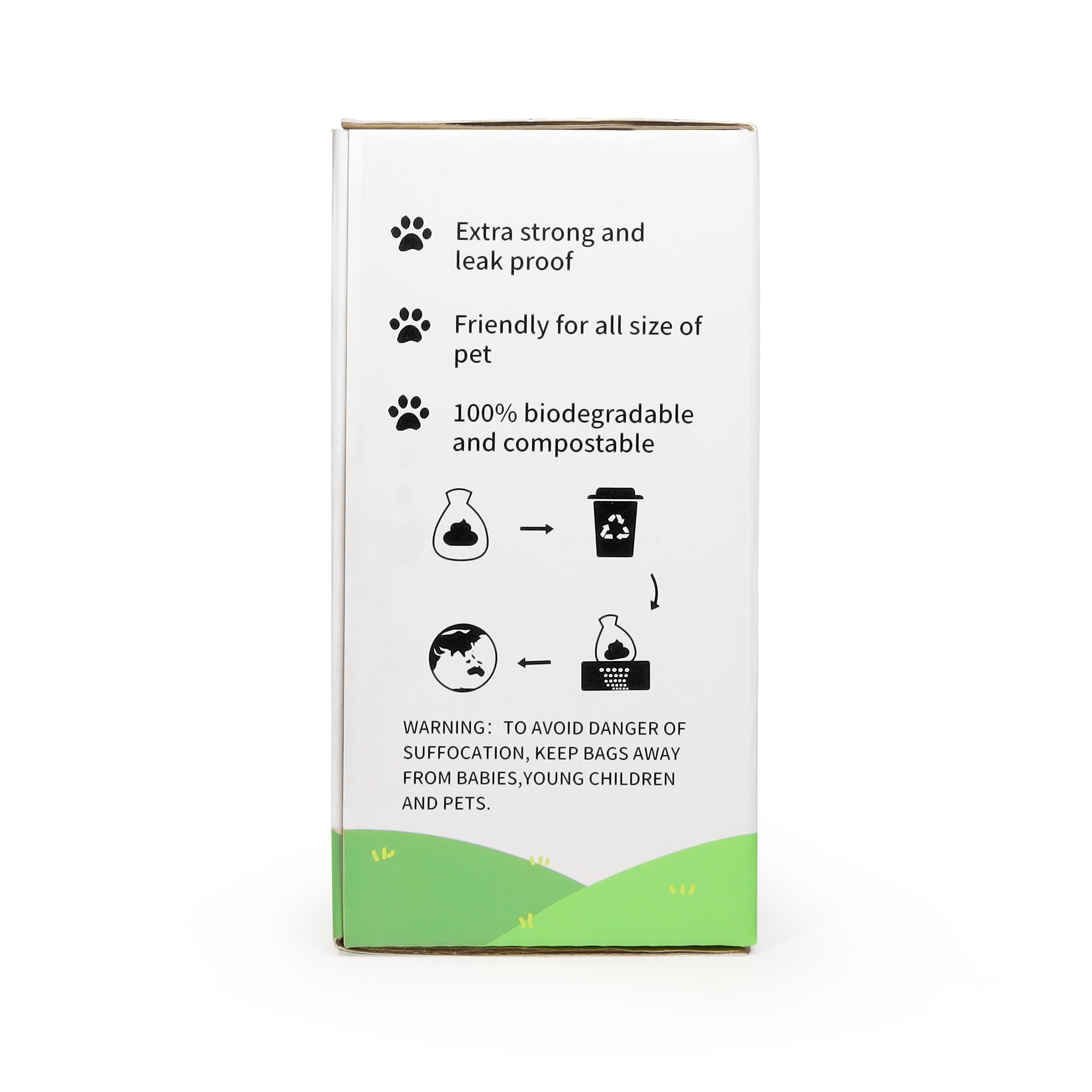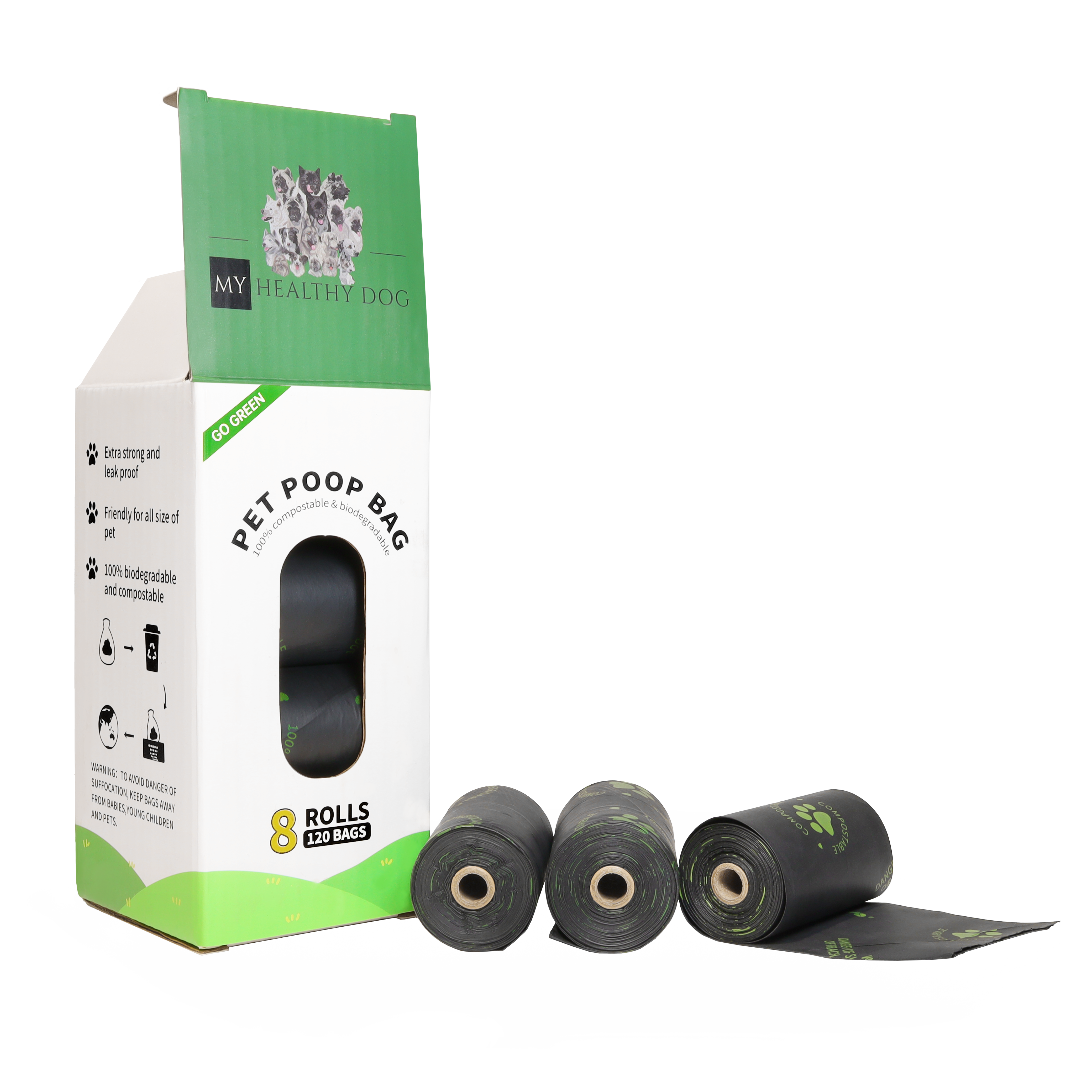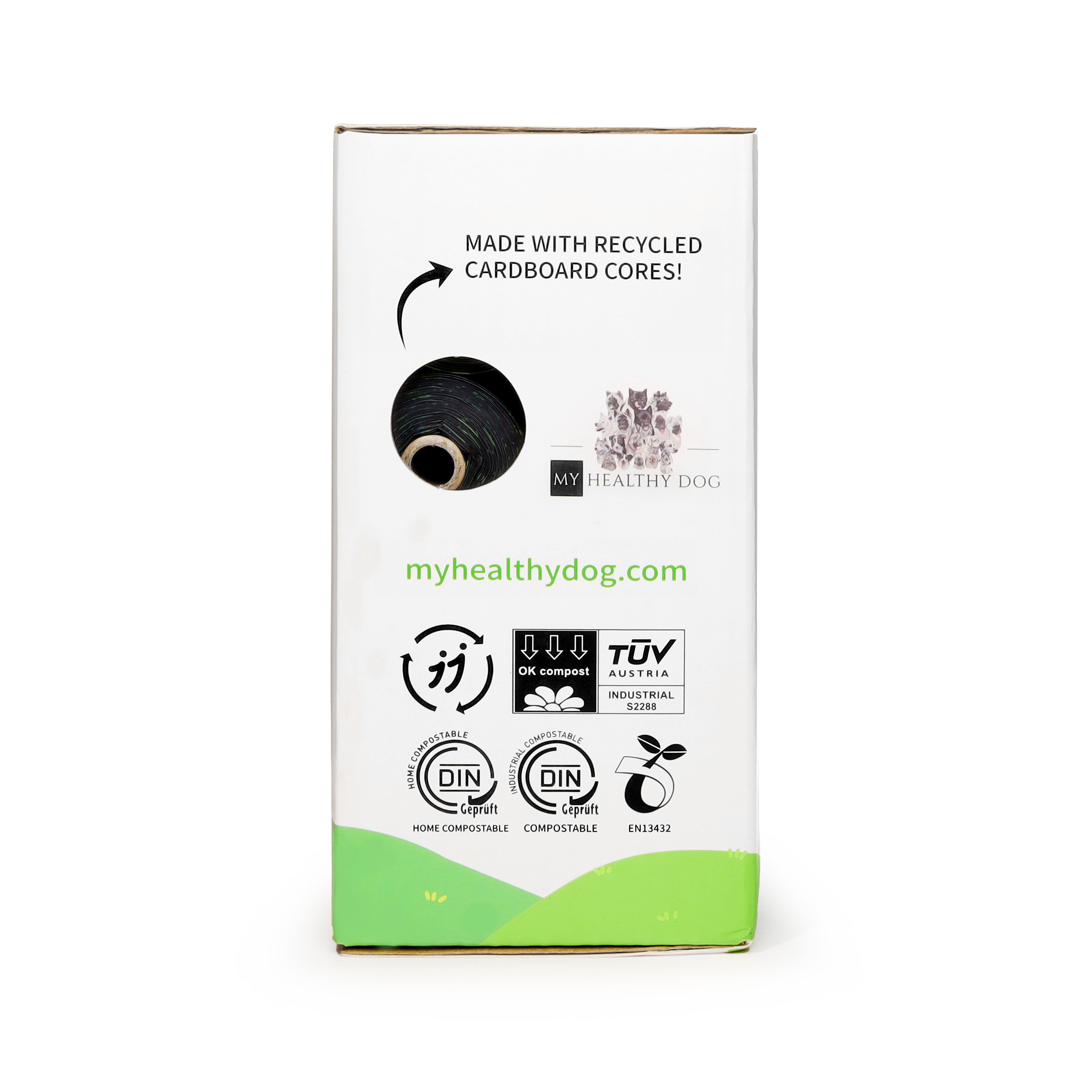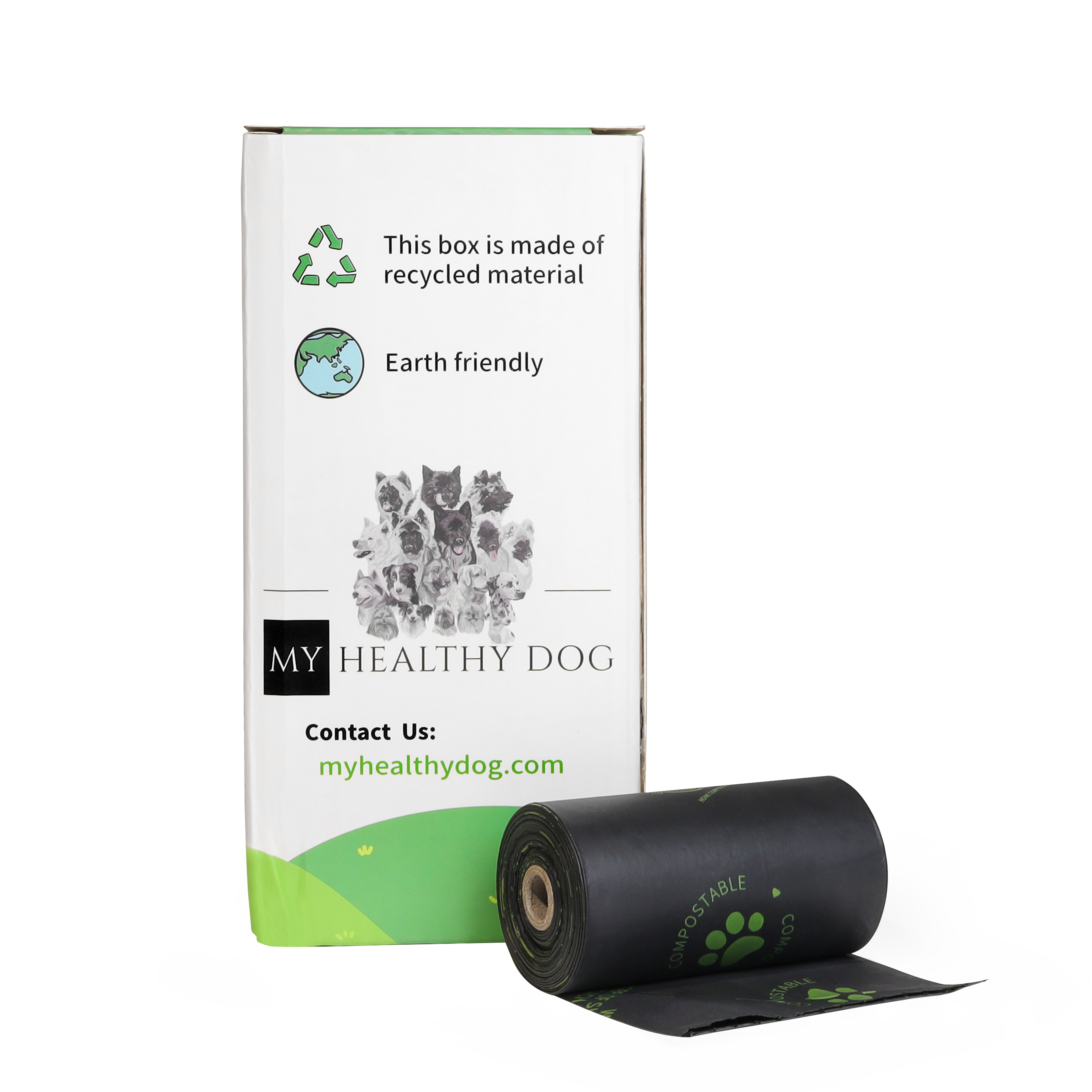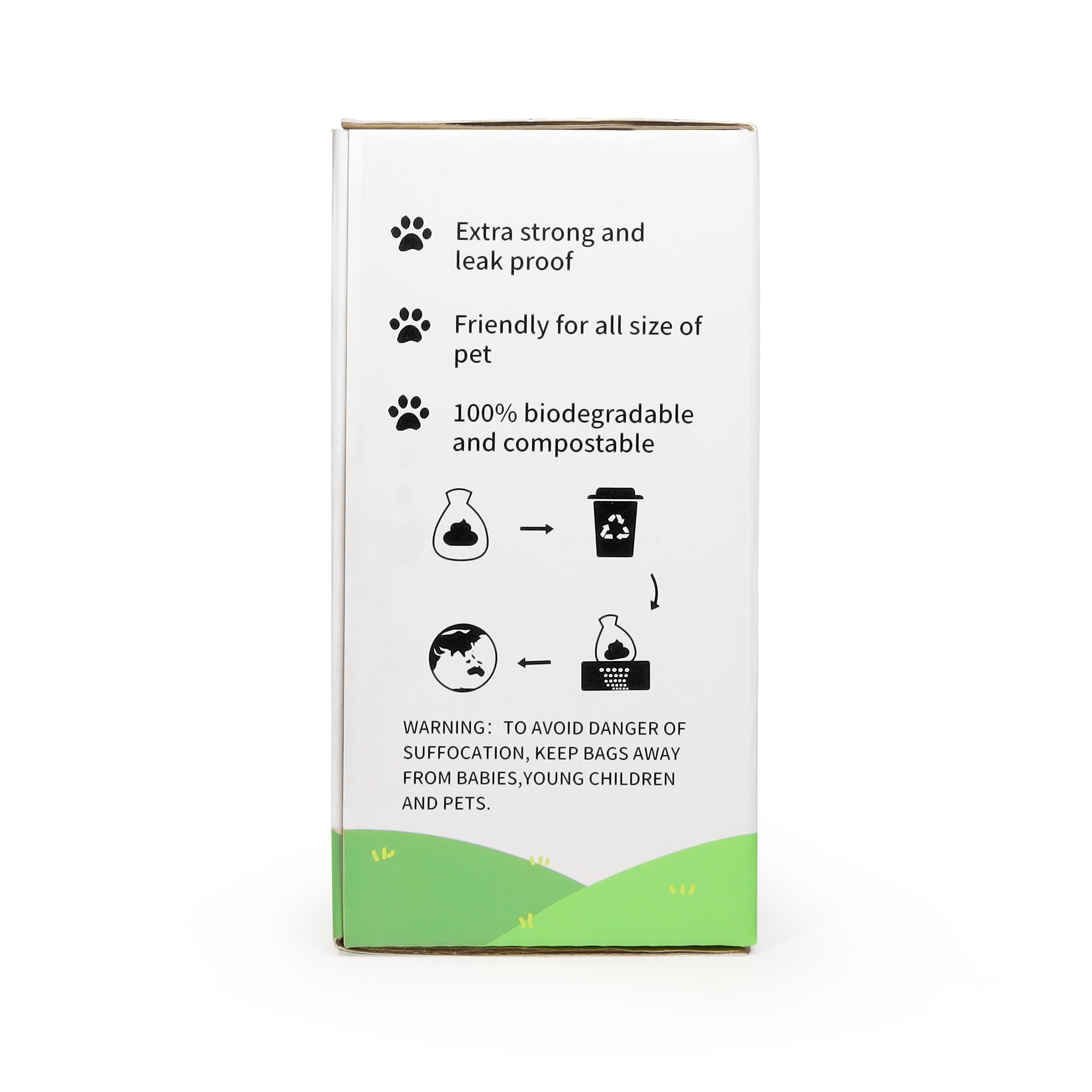 Biodegradable Pet Poop Bags
8 Rolls / 120 Bags
Specifications
100% Fully biodegradable and compostable -> Yes
Biodegrade/Compost Timeframe -> 180 Days
Dimensions -> 9x13
Life Stage -> Adult, Puppy, Senior
Breed Size -> Small Breeds, Medium Breeds, Large Breeds
TUV Austria OK Certified Home Compostable -> Yes
TUV Austria OK Certified Industrial Compostable -> Yes
DIN-Geprüft Industrial Compostable -> Yes
DIN-Geprüft Home Compostable -> Yes
EN13432 Certified -> Yes

Ingredients:
PBAT, PLA and Cornstarch
Centers Made With Recycled Cardboard Cores
WARNING:
To avoid danger of suffocation, keep bags away from babies, young children and pets.
Customer Reviews
Linda Thomas
I have two Labrador retrievers who produce, well, a lot of waste. Over the years, I've tried many dog poop bags, but these biodegradable ones truly take the cake. I was pleasantly surprised by their strength and durability - not a single tear or leak so far. The size is also more than enough for larger breeds. But what really sells me on these bags is the fact that they're biodegradable. I love that I can responsibly dispose of my dogs' waste while reducing our carbon pawprint. They're a bit more expensive than your average bag, but for the extra quality and environmental friendliness, it's a price I'm willing to pay.
QB Medical
Our veterinarian customers love this product!
Alex S
Having a Husky means dealing with a significant amount of waste on our daily walks. I've tried countless bags over the years, but these biodegradable dog poop bags have by far surpassed the rest. I was initially attracted to their eco-friendly promise, but now I'm just as impressed by their quality. They are sturdy, have a good thickness, and are large enough to handle any 'surprises' my furry friend leaves me. Plus, they have a soft texture, so they're not harsh on my hands. The fact that they're biodegradable and not harming the environment is the cherry on top.
Julia Peterson
I've always been conscious about reducing waste and was on the hunt for dog poop bags that align with this principle. These biodegradable bags are not only environmentally friendly, but they're also high quality. They're tough, leak-proof, and have a decent size to them. The company also uses eco-friendly packaging, which is another win. The bags are easy to tie up securely after use. I appreciate the dedication to a product that respects both pets and our planet. Yes, they cost a bit more than the non-biodegradable ones, but the price is worth it for the peace of mind they give.
Frequently Asked Questions
45 DAY 100% Money Back Guaranteed
We take great pride in the fact that a significant portion of our clientele consists of loyal customers who keep coming back for more.

With our high-quality products, we are confident that you too will fall in love with your purchase!

However, in the rare event that you are not completely satisfied, worry not, as we offer a hassle-free, no-questions-asked full refund policy.

So, go ahead and shop with confidence, knowing that your satisfaction is our top priority!
We cordially invite you to experience our product range. Our intention is to not only maintain, but significantly improve your dog's health and happiness. By choosing My Healthy Dog, you're taking a pivotal step towards promoting your pet's optimal wellness. Thank you for entrusting us with this important aspect of your beloved pet's life.
As pet owners, we all want to ensure our furry friends live a long and happy life. While not able to remain with us as long as we would like them too,...

As pet owners, we all want to ensure our furry friends live a long and happy life. While not able to remain with us as long as we would like them too,...