Is Your dog's skin and coat is in need of some serious TLC?
Not only will our natural ingredients help improve your dog's skin and coat health, but they will also help to soothe and calm them.

Our formula suits every dog's needs - whether they are prone to allergies, have dry skin, brittle hair or just love taking baths.

Our shampoo and conditioner is made with a blend of natural ingredients that are recommended by veterinarians, groomers, breeders and holistic veterinarians.

It's a calming formula that will make bath time more enjoyable for both you and your pup. You'll love how soft and shiny your dog's coat becomes after using our shampoo and conditioner.

Bathe your pup with confidence, knowing that they are getting the best possible care.

Order Super blend of natural ingredients shampoo and conditioner for your dog today!!
Learn More
Use our hydrating shampoo and conditioner to improve and maintain your fur baby's skin and coat.
Natural Super-blend
Oatmeal, Aloe Vera, Vitamins A, D, E Coconut Oil and Lemon Verbena, will leave your dog's skin moisturized , itch free, bad odor free, and super healthy without dangerous chemicals. Their coat will be conditioned, soft and shiny.
Highly recommended
Soothes, heals, moisturizes, hydrates, and protects the skin. Tough on dirt and odors not your pup. Formulated for pets with allergies to foods, grass and flea bites. PH balanced for sensitive skin. No alcohol, sulphates, added colors or harsh chemicals.
Calming formula
Will not irritate your pup's eyes, nose or skin while bathing. Makes for a soft, shiny, vibrant coat that is easy to brush and will make your Superdog feel clean and smell fresh for days after bathing.
100% Organic
My Healthy Dog Shampoo and Conditioner will leave your pups skin healthy and moisturized and coat clean, soft and shiny
Whats in the Shampoo & Conditioner?
Vitamin A
Vitamin A Stimulates cell growth and has anti-inflammatory properties. They help to regulate the sloughing off of skin cells, reducing the occurrence of clogged pores.
Vitamin D
Vitamin D is critical for a dog's health. It aids bone development and maintains joint health. It also prevents heart disease and kidney failure in dogs. Some of the most common health issues dogs face are coat problems, vision problems, inflammatory bowel disease, joint inflammation, dental problems and hyperthyroidism.
Vitamin E
Vitamin E is essential for dogs. It is a fat-soluble vitamin that is maintains your dog's muscles, heart health, liver, healthy skin, fur coat, and more. Vitamin E is also an antioxidant that can help defend the body against free radicals in the skin and other cells which can lead to heart disease, cancer, and arthritis in dogs.
Oatmeal
Oats come from the Avena sativa plant, which is a type of cereal grain. Raw oats also do not contain gluten like wheat. Giving your dog an oatmeal bath is much more effective than giving them a normal bath. It forms a protective barrier around the skin to retain moisture and prevent it from drying out. This protective film reduces itching and regulates the pH of their skin.
Lemon Verbena
Lemon Verbena relaxes your dog's mind and body. The natural fragrance of the herb functions like a deodorant or perfume to neutralize odor. It suits all skin types and makes the skin feel soft and toned.
Aloe Vera
One of the most popular supports you can use to help your dog's skin get rid of impurities. It is used for its healing properties and helps maintain healthy skin.
Coconut Oil
Coconut Oil is an effective way to help dogs with skin allergies and infections. Many veterinarians, including holistic veterinarians, recommend it to help treat a wide range of skin ailments, like hot spots, bites, stings, or itchy, dry skin.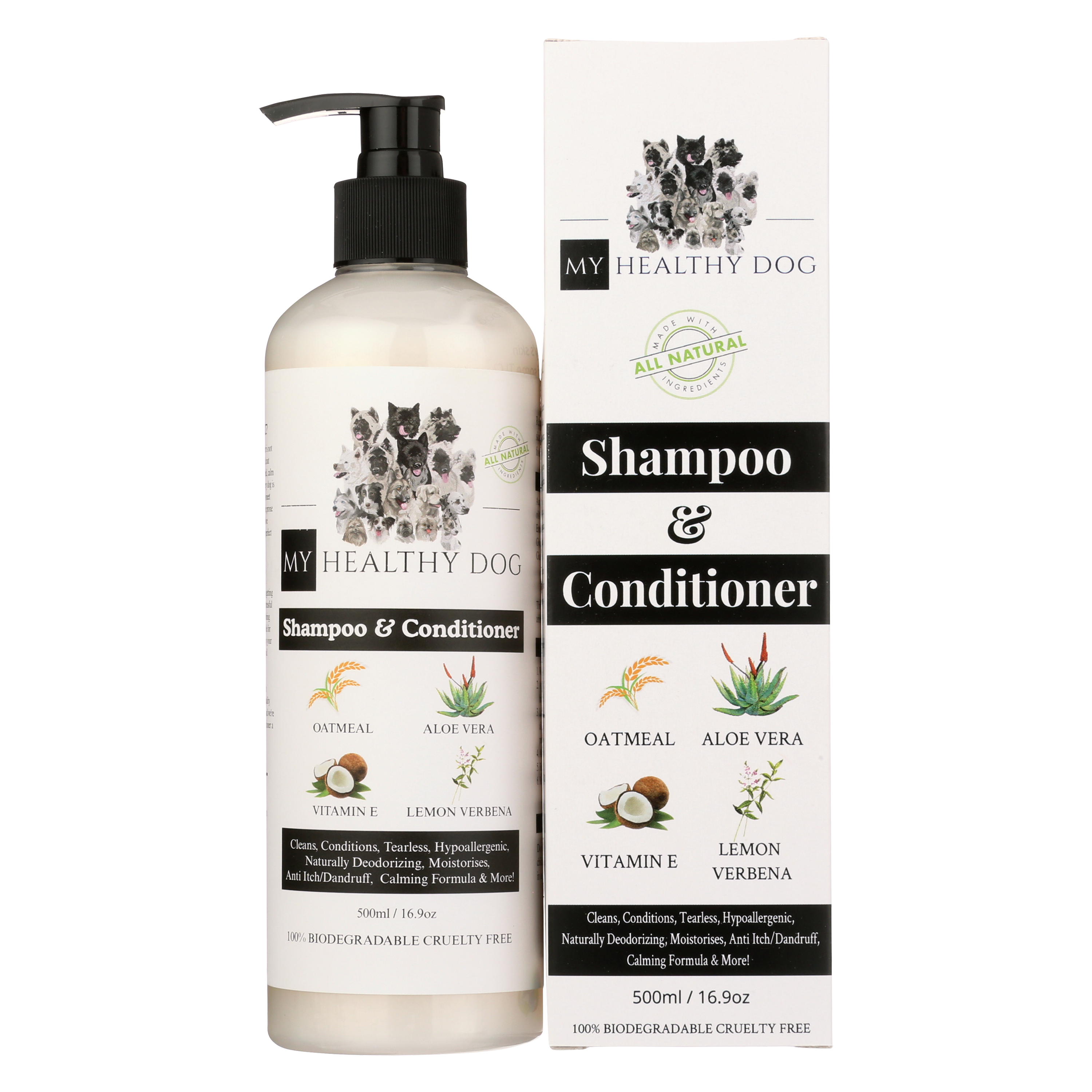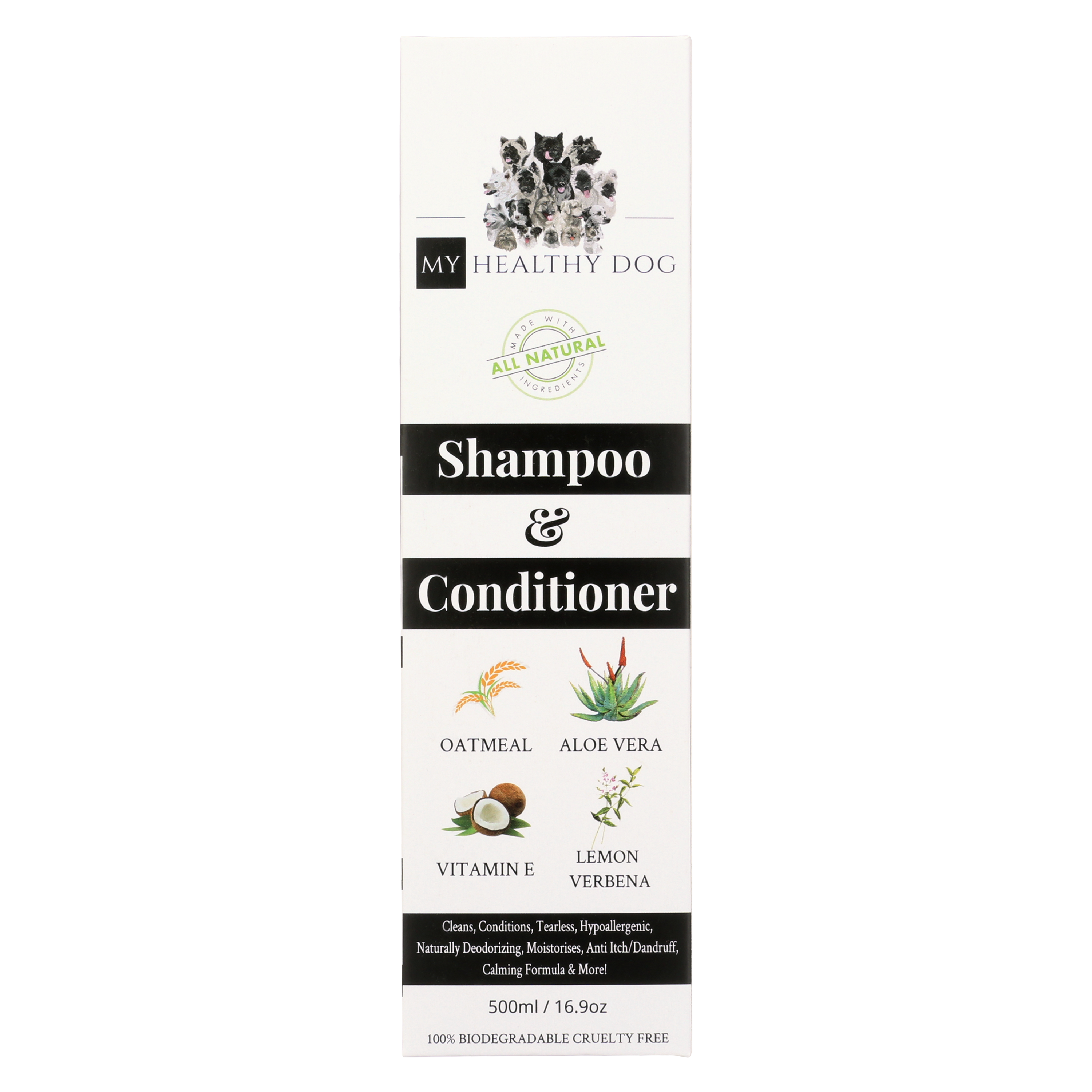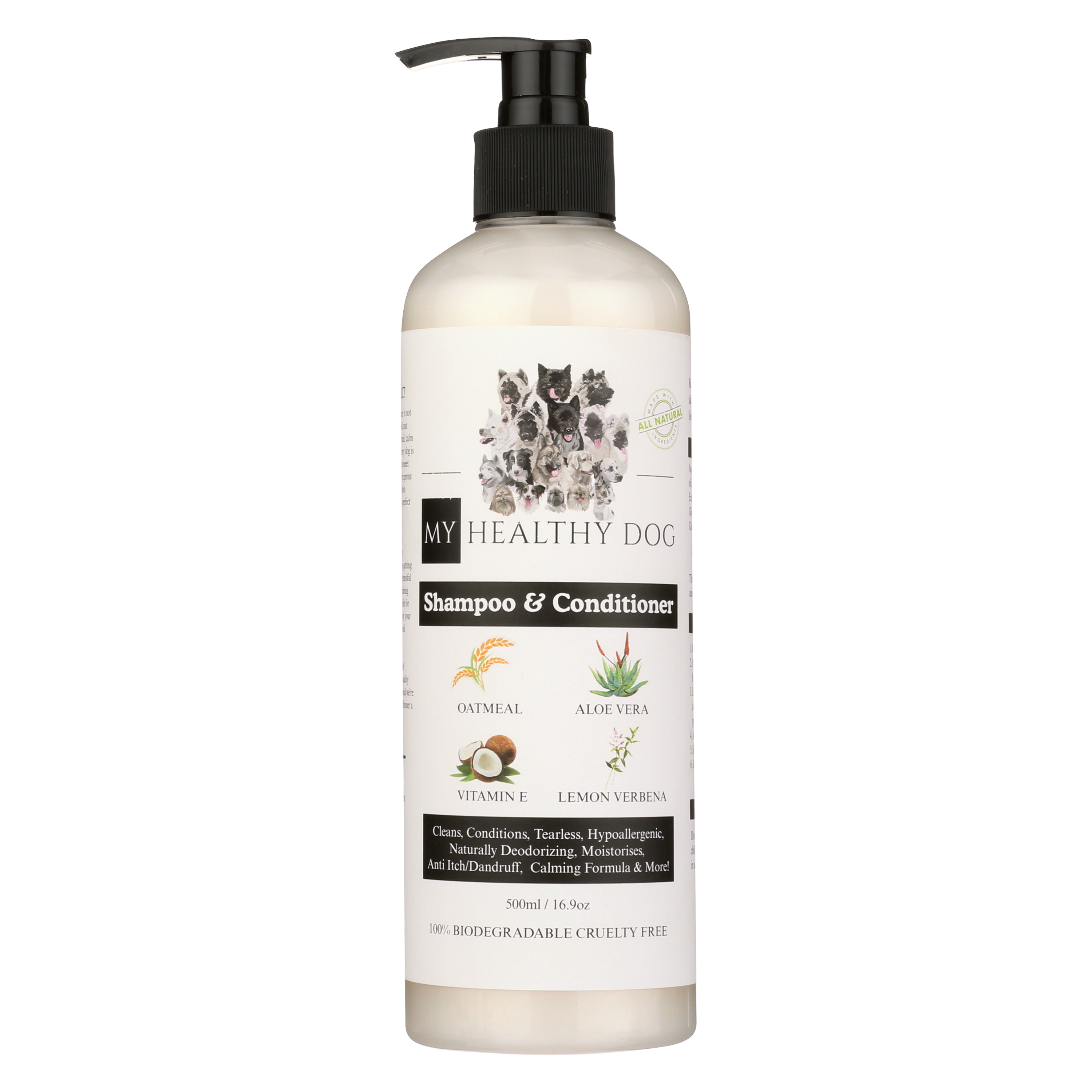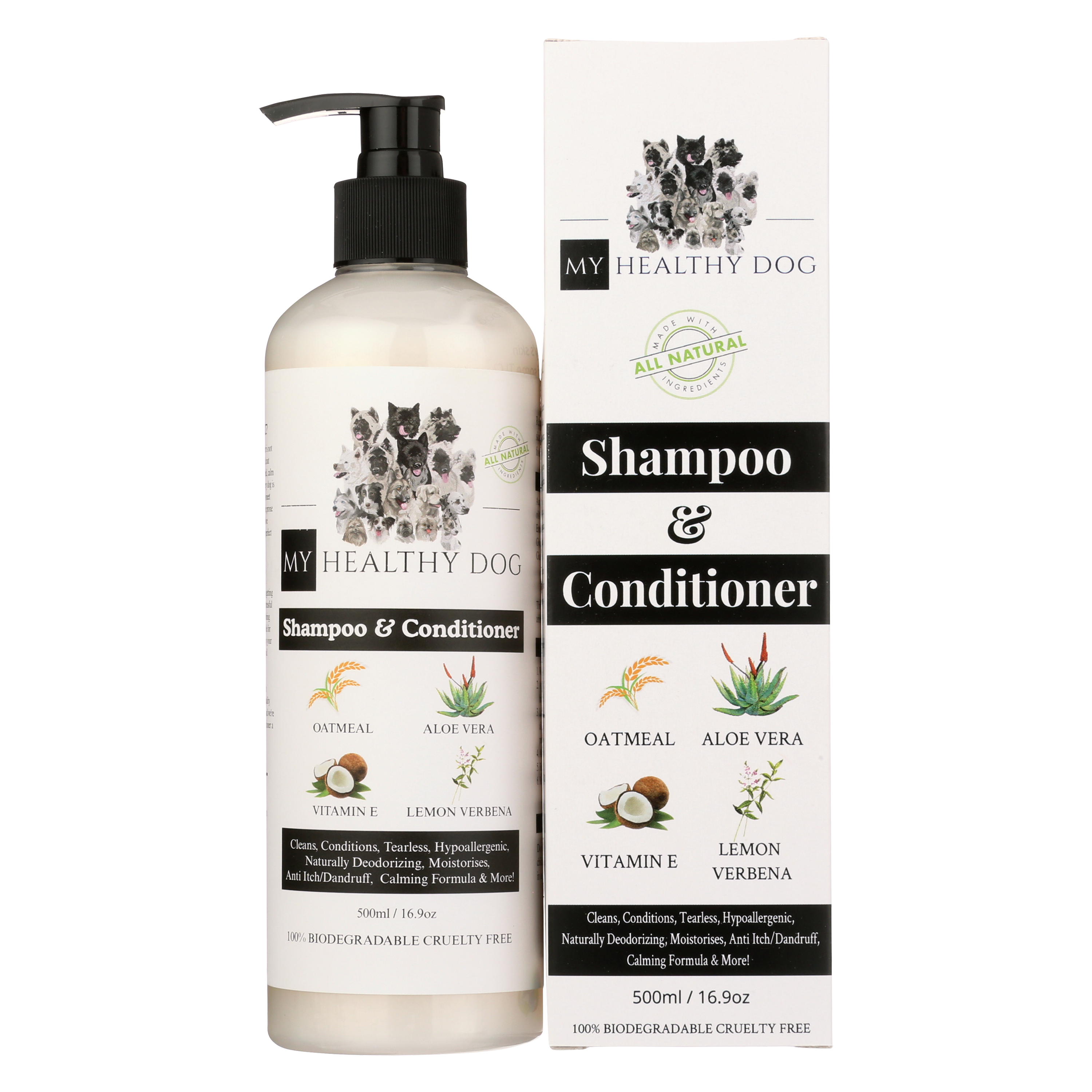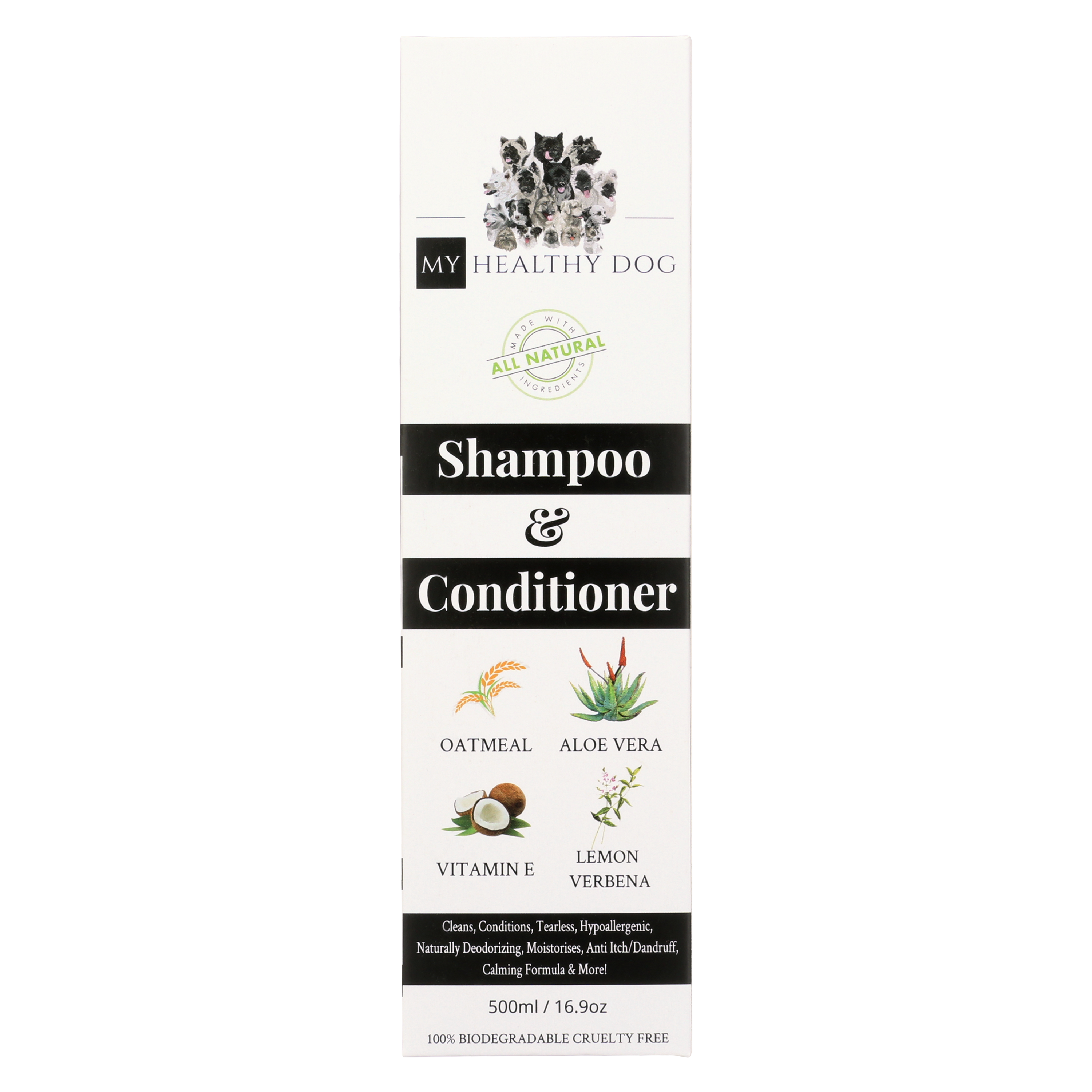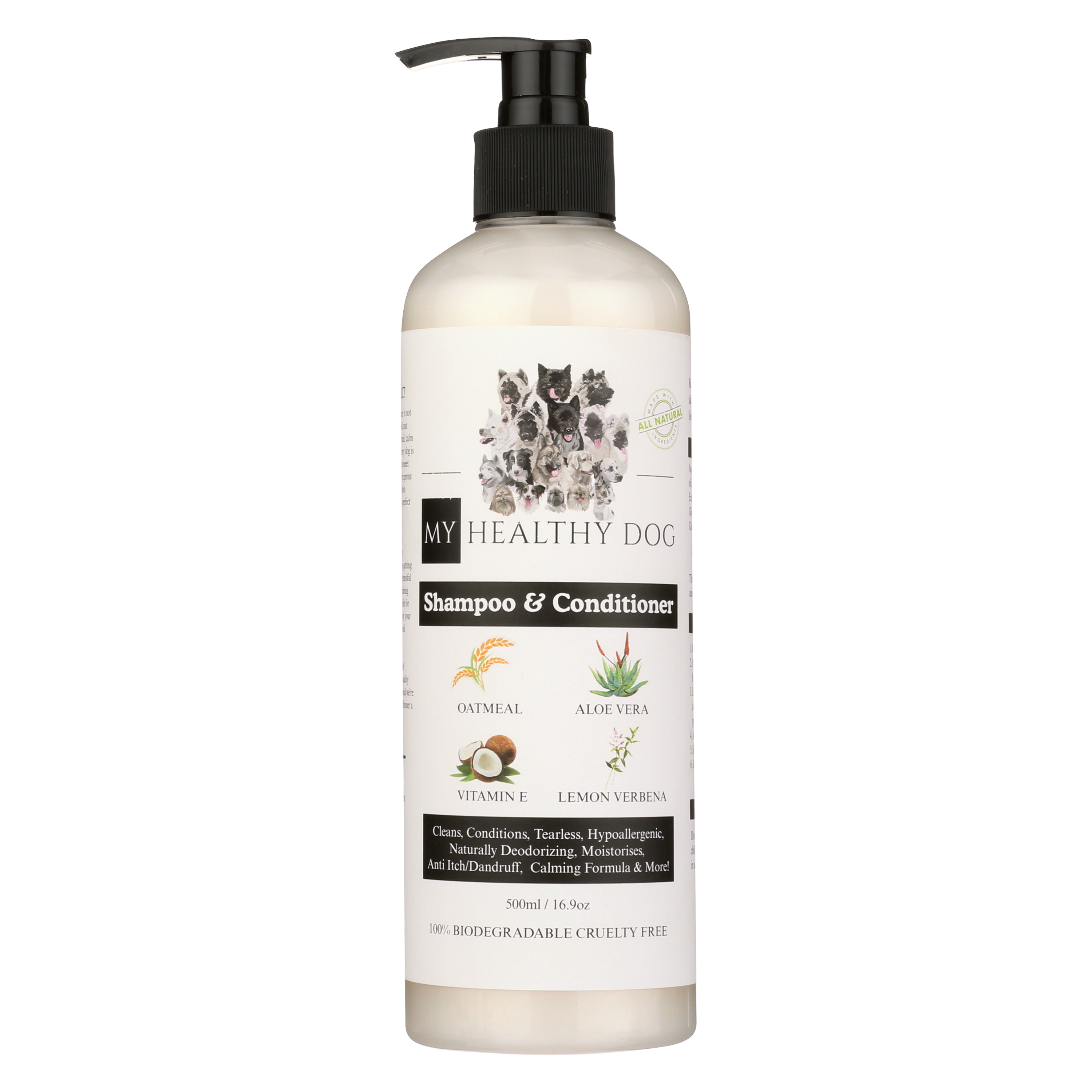 Dog Shampoo & Conditioner
Natural ingredients that clean, moisturize and condition your dog's skin and coat with nature's nutrients
Directions
1. Wet coat.
2. Apply Superdog Shampoo and Conditioner evenly over the wet coat from head to hindquarters.
3. Lather and massage for 3-5 minutes, to allow The Superdog Shampoo and Conditioner to penetrate the coat and reach the skin.
4. Allow to remain on your Superdog for 5-10 minutes.
5. Rinse well.
6. Keep your Superdog warm until dry.
Ingredients
Aqua(purified water), Hydrolyzed Oat Proteins(oat extract), Cocoyl Amide Propyl Dimethyl Glycine(coconut), Aloe Vera Extract, Lemon Verbena Extract, Apricot Kernel Oil (Almond Oil), Vitamins A, D, and E, Glycerin, Glyceryl Caprylate, Decyl Glucoside, Polyquaternium-7
Safety Information
Store in a cool, dry place to ensure longevity of the product. Keep out of reach of children.
Frequently Asked Questions
Customer Reviews
Jasmine Hunn
Love love love these products. The shampoo smells sooo good! My dog loves his dog vitamins. The paw balm keeps my dogs paws so soft and smooth!! My pups love everything about these products and so do I.
Domingo Enriquez
Best shampoo and multivitamin I have ever used with my dogs. Fast shipping. They sent me free paw balm. I would have never thought to use any of the wonderful products. My family loves how the dogs smell now. They are telling friends and family about it. A must have!
Chantal Jaques
These products are top quality! The shampoo has a lot of great moisturizing ingredients and left my dog smelling amazing! And the smell is long-lasting, which is hard to find in a dog shampoo! I got some paw balm too, which will be great for protecting his feet in the snow. I also got the vitamins, which I was pleasantly surprised that my picky dog absolutely loved them! Finally vitamins he will eat, as I have been searching forever and the ingredients are exactly what he needs to stay healthy!
QB Medical
Our veterinarian customers love this product!
45 DAY 100% Money Back Guaranteed
We take great pride in the fact that a significant portion of our clientele consists of loyal customers who keep coming back for more.

With our high-quality products, we are confident that you too will fall in love with your purchase!

However, in the rare event that you are not completely satisfied, worry not, as we offer a hassle-free, no-questions-asked full refund policy.

So, go ahead and shop with confidence, knowing that your satisfaction is our top priority!
We cordially invite you to experience our product range. Our intention is to not only maintain, but significantly improve your dog's health and happiness. By choosing My Healthy Dog, you're taking a pivotal step towards promoting your pet's optimal wellness. Thank you for entrusting us with this important aspect of your beloved pet's life.
As pet owners, we all want to ensure our furry friends live a long and happy life. While not able to remain with us as long as we would like them too,...

As pet owners, we all want to ensure our furry friends live a long and happy life. While not able to remain with us as long as we would like them too,...